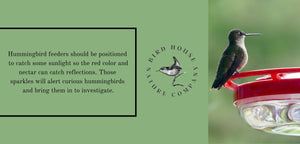 Hummingbird Feeders
---
Nectar feeders are specially made to dispense a sugar/water solution through small holes. Nectar is offered in feeders designed to attract Hummingbirds and Orioles in the Spring and Summer months. Mothers' Day is a good time to install nectar feedersThere are nectar feeders designed to feed butterflies as well.
Feeder Placement
Where to hang your feeder? A new one may be discovered sooner if placed over or near a garden of hummingbird plants. Consider placement of feeders near windows, where you can watch and enjoy them.
Cleaning
Recommend choosing a feeder that is easy to take apart and clean. Nectar can become foul after only a few days in the sun and needs to be rinsed and washed frequently.
We carry hummingbird and oriole feeders by Aspects, Droll Yankees, Perky-Pet and others.