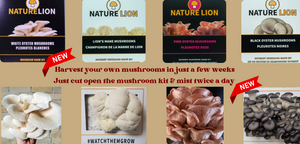 Nature Lion Mushroom Kits
---
Nature Lion was created to teach others how to grow food.
With your well-being in mind we assist you in the process of growing food that enables you to live your best life!

Harvest your own mushrooms. Just cut open the mushroom kit and mist twice a day. It is as easy as that.

Click here for an intro to Canada's Best Mushroom Growing Kits